About Langscape
Langscape is a developing online resource for mapping, integrating and making discoverable a wide range of information about the world's languages as well as for raising public awareness of language diversity. Langscape allows users with interests ranging from recreational to academic to discover the world's languages via interactive tools and access to established research.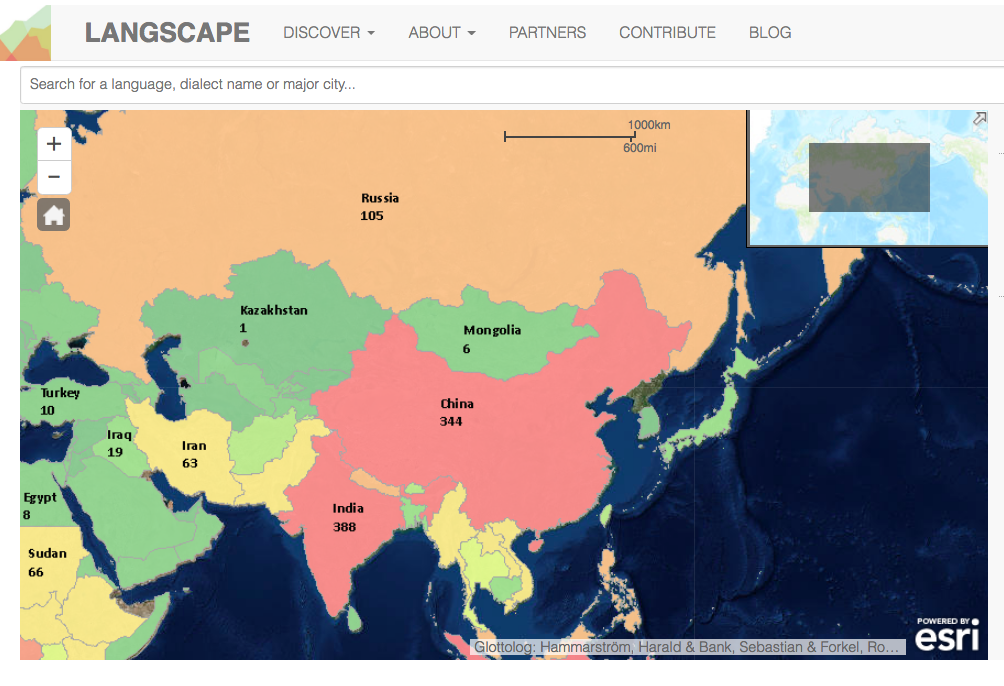 Langscape currently provides location information for over 6,000 languages worldwide via an interactive map (using data from Glottolog). Additional resources for almost half of those languages are available through the map interface, including word lists, texts, recordings, sound inventories, and references. 
Origin of Langscape
Langscape has been a project of the Maryland Language Science Center since January 2014. Earlier development work was done by UMD's Center for Advanced Study of Language, which also contributed a great deal of data. Other data included in Langscape comes from publicly available datasets and from our various partners.
The initial public release was in May 2014, and there have continued to be updates of both function and content since then. 
Comments on the map and language data are welcome; we are interested in user feedback that can inform future development of the site, map and datasets. We are also able to pass on feedback to our partners and data providers.
Recent Developments
Until February 2018, Langscape's language maps were based on the World Language Mapping System (WLMS), owned by SIL International. We are displaying language location data from Glottolog, an initiative of the Max Planck Institute for the Science of Human History.
For the future, we plan to create an open-use global language map dataset. Right now we are working with Translators Without Borders, a non-profit which provides language and translation support on a global scale, on a project to crowd-source language mapping data for several countries where there are urgent humanitarian needs for accurate language use information.
Please check back to learn more about our progress – and opportunities to contribute!
You can contact us at langscape@umd.edu
Other Langscapes
Our name is shared by the following groups and websites, though we are not affiliated with them:

Langscape magazine

, published by the organization

Terralingua

, which focuses on the connections between linguistic, cultural and biological diversity

The Language of Landscape (LangScape)

, an online searchable database of Anglo-Saxon estate boundaries

A set of

Python language processing tools

Steve Lang's landscaping business in Whitestown, Indiana, USA

Audrey's Langscape

, a travel blog with some beautiful photographs

An international

research network

on plurilingualism, language education and language learning, currently coordinated at Humboldt-Universität zu Berlin, Germany